Stress-Free Moving Service with Trend Moving in Exeter New Hampshire
Moving to a new home or office is an exciting process altogether. It helps you differentiate between valuable material possessions and unnecessary things that takes away the space. However, the hardest part of this shift is packing and unpacking of your belongings. If you are in Exeter, NH, look no further to hire a reliable Exeter moving service provider. Trend Moving is here to assist you!
Trend Moving For Moving Service in Exeter, NH
Whether you are moving to a new single-room home, office complex, apartment or a bungalow, Trend Moving is your right choice for reliable Exeter moving service. We have been in the business for many years and quite familiar with the whole process of complex moving and packing.
As a reliable company, we offer a wide range of moving service in Exeter, New Hampshire. Each of our team members have proven their expertise in safe packing, transportation and unpacking of personal and valuable belongings. The trucks and equipments are of highest standards to make moving service in Exeter, NH easy and safe. Each and every product is packed and transported in the most professional way with careful attention. There are no hidden fees or complex pricing structure when you hire our moving service in Exeter, New Hampshire. We offer all our moving services at competitive rates.
Call Us Now For Reliable Moving Service
Get in touch with Trend Moving now if you want to have professional and reliable moving company in Exeter, NH.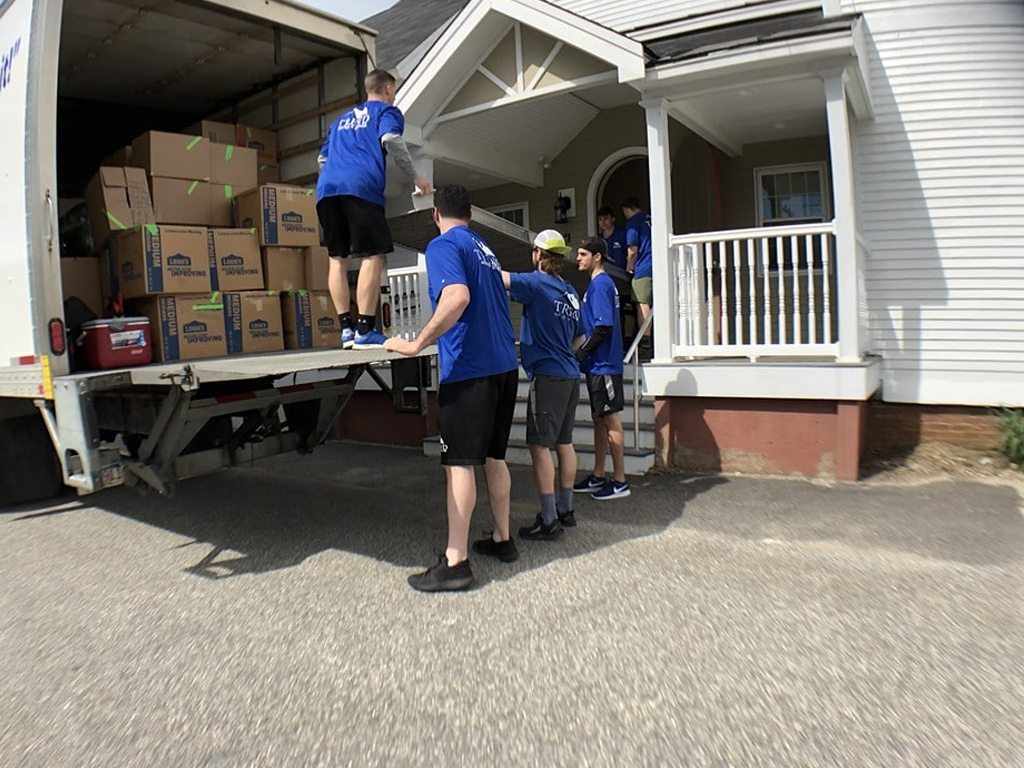 Ready for your free estimate?
Please complete the form for your free estimate.
The Number One Moving Company in Exeter NH
If you're hoping for an amazing experience with a moving company in NH, you will absolutely find it with us. Trend Moving provides residential and commercial moving services to clients in New Hampshire, including cities and town surrounding Derry, Londonderry, Manchester, Nashua, Bedford, Concord, as well as the NH Seacoast and the Lakes Region. If you've had poor past experiences with moving companies, you'll quickly see the difference with Trend.
NH movers with "next level" professionalism
We are 100% committed to professionalism and delivering an elevated level of service. Much more than what you might be used to. Every moving company says they go the extra mile, but we go much further.
We sincerely strive to be the best thing to happen to the NH moving business. Ever.
A moving company with pride & commitment
We show up on time, clean cut, ready to do the job professionally and without mistakes. Many moving companies "Show up when they want to," perhaps minutes or even hours late. Not this moving company. You will be so impressed by the amazing level of service you receive and it will far surpass any NH moving service you've ever seen in the past. Our group keeps a positive attitude, hustles, and works as a team.
A 100% safe, compliant, insured NH moving company.
Unlike other NH movers, we take our business incredibly seriously. Our employees are part of our family. We look out for our people, and they in turn look out for our customers. Our employees get health insurance, extremely fair wages, and are recruited locally. Our approach is not to look for the "cheapest help," but to instead find the best fit for our family.
We staff appropriately.
This means your move is completed in half the time it might be completed by other NH moving companies. For instance, where some moving companies might send 2-3 movers to complete a large job, which might take the better part of a day, Trend Moving is likely to send 5-6 movers to provide a better service to the client.
We don't "milk the clock"
Perhaps you've hired moving companies in the past who take a long time to complete your move, with frequent "breaks" and a general lack of urgency. That is not us. We take great pride in our hustle. Our moving team is fully staffed with former collegiate athletes who are expected to complete your moving job quickly and efficiently.
Providing moving services all over NH
Trend Moving operates all throughout NH. This includes moving services in Manchester, Bedford, Derry, Nashua, Wolfeboro, Portsmouth, and other surrounding cities and towns. If you need movers in the Manchester area, or even in the Seacoast or Lakes Region, we'll be there.
The top rated NH moving company, and the only trusted HomeAdvisor Partner.

There are hundreds of moving companies in NH, but very few have a perfect five star rating on Google and Facebook with over 20 amazing reviews. And, there is no other NH moving service with the distinction of HomeAdvisor Partner. With all of these other people who trust Trend to be their preferred moving service in NH, we hope you will too.